A resident of the public housing building Pauline Hanson attempted to send over 100 packages of stubby holders called the act "shocking" and "malicious".
Hanson is said to have sent the parcels days after she called residents in Melbourne's nine public housing towers "drug addicts" and "alcoholics" who can't speak English.
The Age and Sydney Morning Herald reported that the delivery to a North Melbourne housing tower was stopped by the City of Melbourne over fears it would heighten the emotions of residents during the hard lockdown. 
The stubby holders, according to the Age and the Sydney Morning Herald, were adorned by the words 'I've got the guts to say what you're thinking', and with a note attached saying 'no hard feelings'.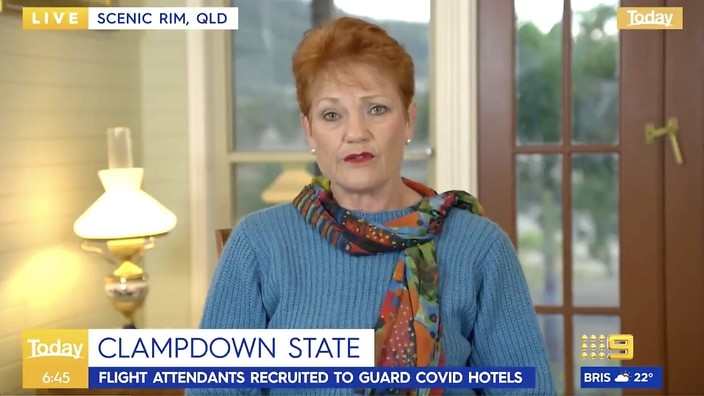 Pauline Hanson in her final appearance on Nine's Today Show.
Nine's Today Show
The 114 parcels were sent to 76 Canning St in North Melbourne and addressed to all residents.
The local council's intervention led to a stern email from Australia Post's General Counsel and corporate secretary Nick Macdonald who, from information obtained by The Age, threatened to call the police or relevant authorities if the packages weren't delivered.
Christine Holgate, chief executive of Australia Post, disputes the claim from The Age that she was in contact with Hanson, and personally pushed to see the packages delivered.
"Australia Post confirms that Ms Holgate did not speak to Senator Hanson or One Nation on this matter, nor did she threaten Melbourne City Council, with whom she has a valued relationship and holds in high regard," Australia Post said in a public statement on their website.
Then added: "Commonwealth laws prohibit any conduct which interferes with the mail, and make it clear that Australia Post is obliged to complete the delivery of Australians' mail to the designated address."
'We felt like we didn't do enough'
Abdiqafar Ahmed is the operational manager at AMSSA, a Muslim youth not-for-profit organisation based in Melbourne. During the hard lockdown in July, he was in charge of a range of supporting measures on site, from donations to food and toiletry packages being sent to residents.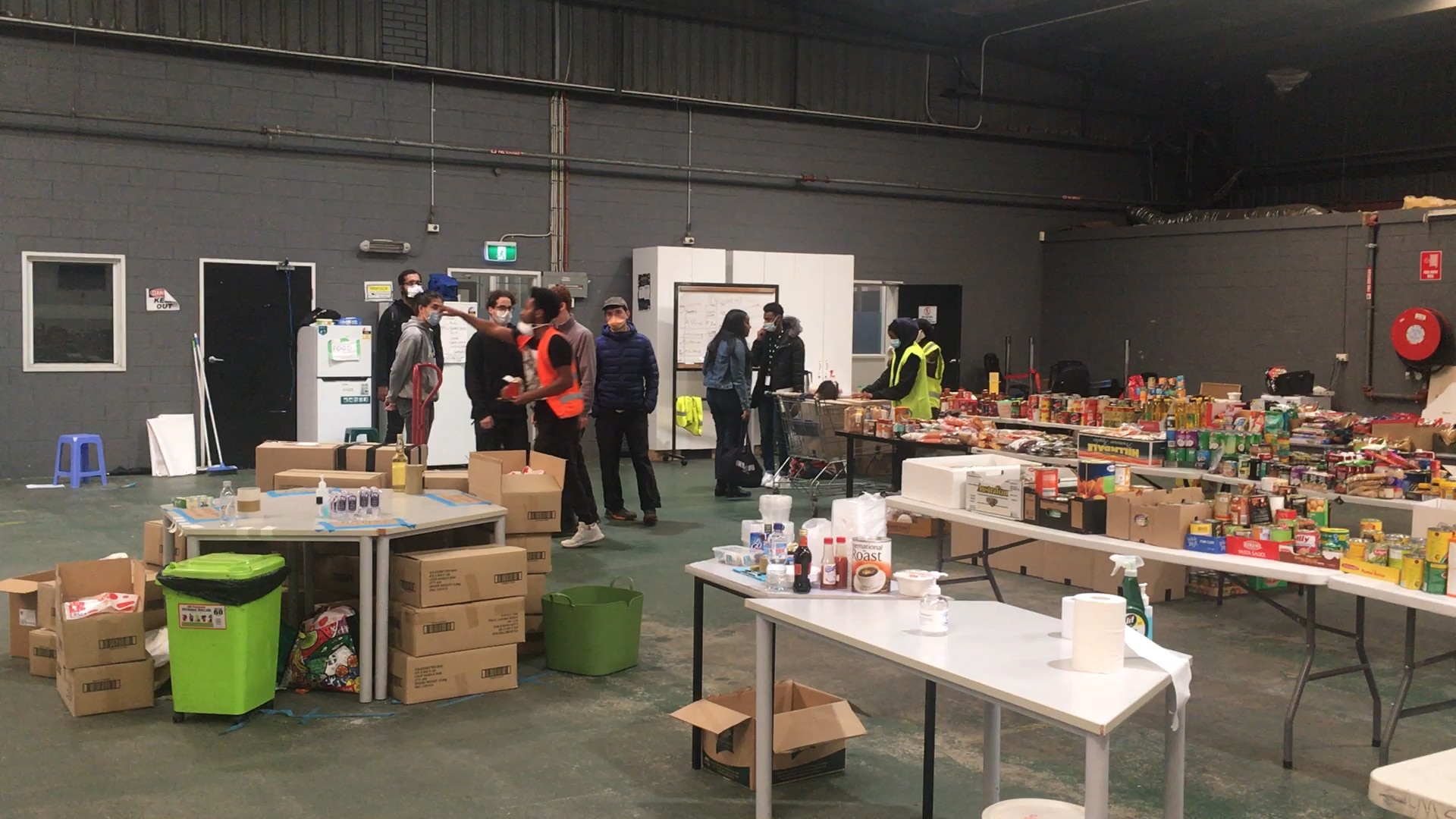 The warehouse were AMSSA volunteers organised deliveries for residents in the towers.
SBS Somali
Before Pauline Hanson's planned parcels were even on the radar, Abdiqafar says there was already frustration with packages sent by the Victorian government that was either not culturally appropriate or food that had expired.
"So to have Pauline Hanson only trying to fuel what was already there kind of shows the disrespect and disregard she has for the people [in the towers], " Abdiqafar told The Feed.
"Some people have lost family members to this horrible virus and to have the cheek to, you know, to send something like that. I'm just lost for words."
After the hard lockdown, Abdiqafar was able to have face to face meetings with some of the residents AMSSA helped. Those interactions, he says, left him with a sense of guilt despite their efforts to cater to those locked in.
"We felt like we didn't do enough because there are so many other things that we hadn't helped them out with," he said.
What do residents make of the parcels?
Ahmed Dini is a resident in North Melbourne's Canning St block – the same address Hanson sent the stubby holders. He was also one of the volunteers organising the community advocacy effort from within the towers during the hard lockdown.
Once the hard lockdown was over and he was able to leave his flat, he began hearing the stories about Hanson's delivery to his building.
"It was quite shocking to me at first but what do you expect? It's One Nation's Pauline Hanson," Ahmed Dini, a community advocate, told SBS News.
Ahmed saw the "nasty" comments made by Hanson on The Today Show. He believes the community in North Melbourne and Flemington understand the rhetoric that comes from Hanson.
"She likes to divide society based on color, creed, and beliefs," he said.
Hanson's attempt to deliver hundreds of stubbies to North Melbourne, Ahmed says, was "calculated" and "malicious" especially after calling residents in the towers alcoholics, and drug addicts.
"I know Pauline Hanson knows what she was doing. And she just wanted to obviously explore the vulnerabilities of these communities," he said.
"She wanted to obviously make the point that they were alcoholics. That's why she was sending her stubbies.
"But at the same time, we're better than that. We have a disease to fight and we don't have time to go back and forth with Pauline Hanson."
———–
https://ift.tt/35pYS1W