It's been 20 years, but the crowd noise at the Sydney Olympic Stadium on 25 September 2000 has gone down in Australian sporting history. 
This was Cathy Freeman's moment; a moment to unify the nation in one giant wave of celebration. Everyone wanted to share her date with destiny in the 400 metres and was on board for the ride. 
But out on the far side of the track, another Australian athlete, Tatiana Grigorieva, was battling hard to win a medal in the pole vault, and the crowd's noise was a problem. 
"For me, it was difficult to manage. I'd love to have been able to forget about my competition but I had a job to do as well," the 44-year-old told SBS News. 
Grigorieva in action on 25 September 2000.
NEG/AAP
Freeman won gold, but as the crowd's cheers subsided, Grigorieva produced a personal best jump of 4.55m to win a silver medal and give them even more to celebrate. 
Combined with United States' great Michael Johnson becoming the first man to win consecutive Olympic 400m titles, that night became known as 'Magic Monday' and was one of the biggest nights in athletics history.
"I'm looking at Cathy's journey, and we're staying in touch a little bit, but it's hard to believe it's been 20 years," Grigorieva said.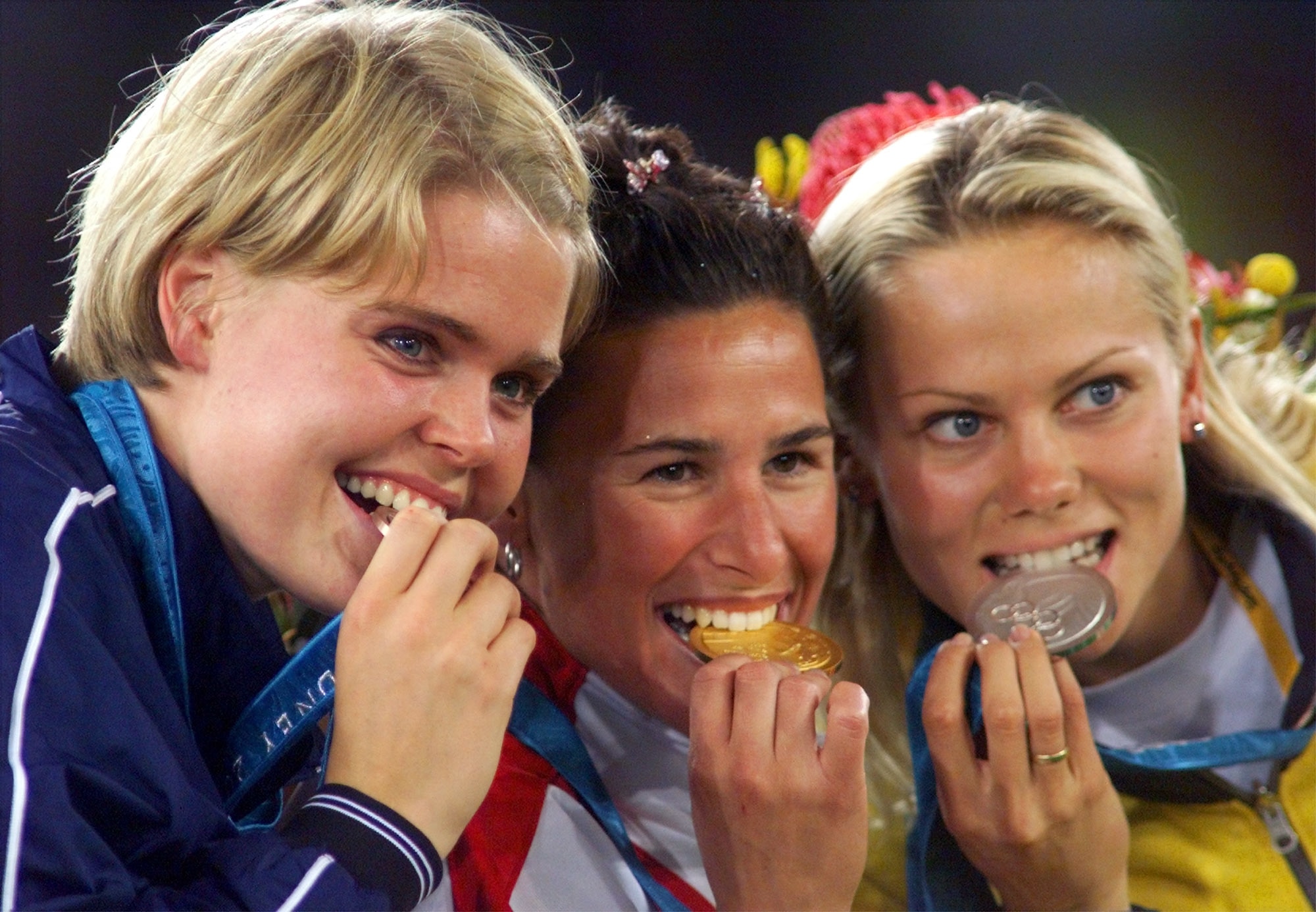 Grigorieva, right, with her Olympic silver medal on 'Magic Monday'.
AP/AAP
Just as gracefully as she ran that night, Freeman withdrew from the limelight and the public glare, while Grigorieva's journey from relative obscurity into the public consciousness gathered pace. She went on to win gold at the Commonwealth Games in Manchester two years later.
She continued competing until 2007 and after that took part in popular television shows such as Dancing with the Stars. She also had a cameo in the 2008 Gladiators series.
"Everything else came as a bonus; Gladiators, and Dancing with the Stars, so I've been very lucky I had a lot more opportunities come my way after Sydney – but that never was a focus," she said. 
Grigorieva was born in what was then Leningrad, in the Soviet Union, in 1975. And while she was a national level athlete in Russia, she only began pole-vaulting after arriving in Australia, less than three years before the Sydney 2000 Games. 
Life at her Adelaide base wasn't initially so glamorous, she said. 
"It took me a little while to find the confidence to bridge the language barrier. Language barrier is a big thing when you're moving countries."
"Being able to communicate your thoughts, ideas, and take the information on board from other people is extremely important."
It took me a little while to bridge the language barrier … It's a big thing when you're moving countries.
But while some people took her resulting quietness as a lack of warmth, she says it was more a case of trying to absorb the lessons she needed about her new sport. 
"You've got to remember I'd been in Australia just over two years before Sydney happened so I was very new to this country back then."
"I came as a promising young runner so I wasn't pole vaulting until I came to Adelaide. As I often say, I'm Russian-born but an Australian-made pole vaulter."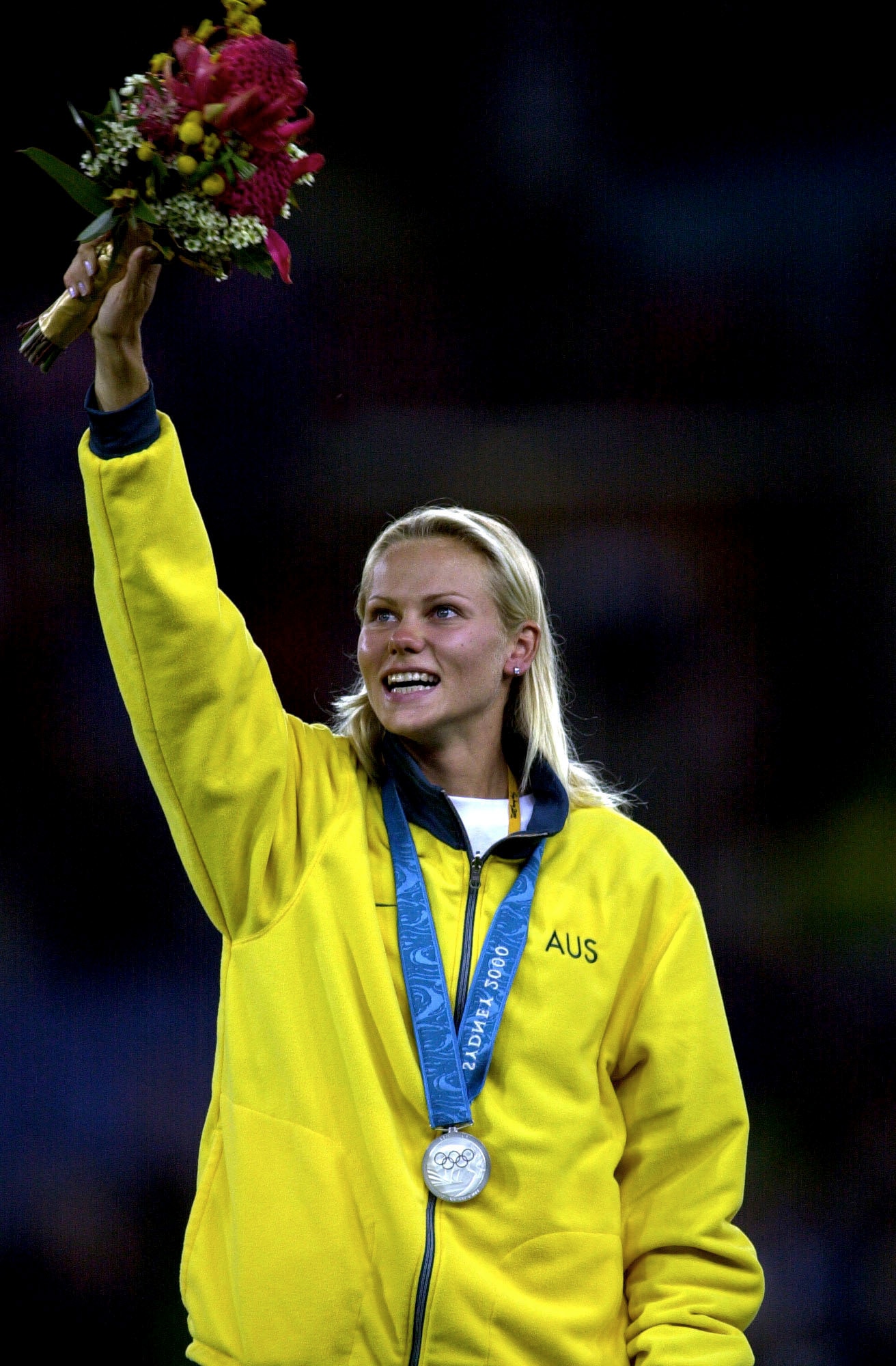 Grigorieva salutes the crowd after receiving her silver Olympic medal.
AAP
Although she was alongside her then-husband and fellow pole vaulter Viktor Chistiakov, as well as Belarussian pole-vaulter Dmitri Markov, it was the knowledge and friendliness of the innovative master coach Alan Launder that helped her assimilate into Australian life. 
"Having Australians that cared about us for the first couple of years after we arrived was super important. Alan Launder was the person that really helped us out in the first couple of years," she said. 
Grigorieva has since relocated to the Gold Coast where she is bringing up two children and working with the next generation of Australian athletes as they plot their road to success. 
Although her fame has reached different corners of popular Australian culture, she says the country being so inclusive has made her journey all the more enjoyable. 
"It's a place where there's a combination of cultures, religions and traditions, so we don't have to choose one thing or another we can have the best of two worlds."
And looking back on her Olympics success, she said it's time for another sporting spectacle in Australia. 
"We need to bring another Olympic Games to Australia – it's been too long." 
———–
https://ift.tt/3ixWZ74