At Australia's oldest continuously working farm, the 204-year-old Glenfield Farm in Sydney's south-west, Jennifer French sat at the dining table in her first winter there, wondering if she'd done the right thing buying it.
"When we first moved in eight years ago, it was supposed to have been fully restored, but it wasn't quite finished and it involved a lot more work than we'd expected," she says. "And it was extremely cold as there was no insulation.
"It was all really challenging. But then, sitting there, I got a sense of the first woman who lived at the farm, Jane Throsby, also sitting in the same place and looking at the same view, and thinking how difficult it all was. And I realised that she must have really loved it, and appreciated its beauty, just as I did, too."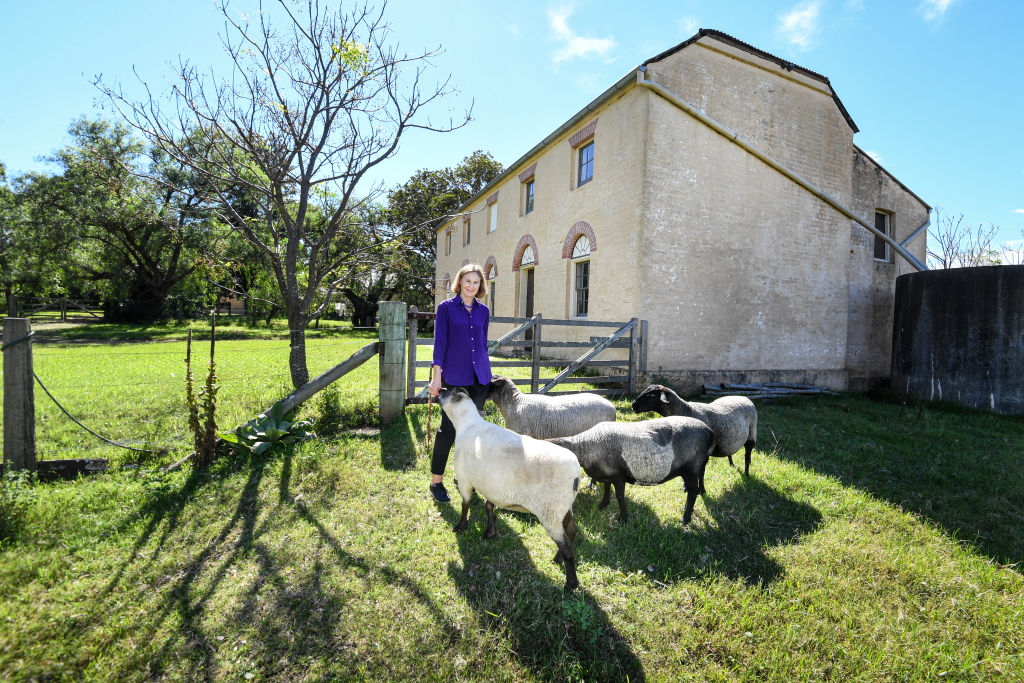 Heritage homes in the city are often no less tricky to restore, maintain and live in. Dominic Emmett, a partner with lawyers Gilbert + Tobin, bought a near-derelict "Georgian gentleman's townhouse" at Dawes Point, close to The Rocks, 10 years ago, and embarked on a very long – and extremely costly – restoration. 
But while he can't even imagine how much money he's spent, the past of the Lower Fort Street house also spoke to him.
"While doing some of the work, we discovered corners had been cut back in 1841 to 1843 when it was originally built," Emmett says. "That was presumably to save money even then."
"For instance, when we were stripping back some of the layers of paint on the wood, we found that the high skirting boards weren't all expensive Australian red cedar; only the lips of the boards were and cheaper wood had been used below. And there were no cornices or roses on the ceilings on the higher levels of the house where the children presumably slept …"
Moment of discovery
There can be few among us who haven't one day dreamt of owning a heritage home, but it takes a particular kind of courage to take the step. French, a writer, had been restoring her heritage Woollahra terrace with her husband, Liverpool Hospital cardiologist Professor John French, when the architect mentioned Glenfield Farm in Casula was up for sale.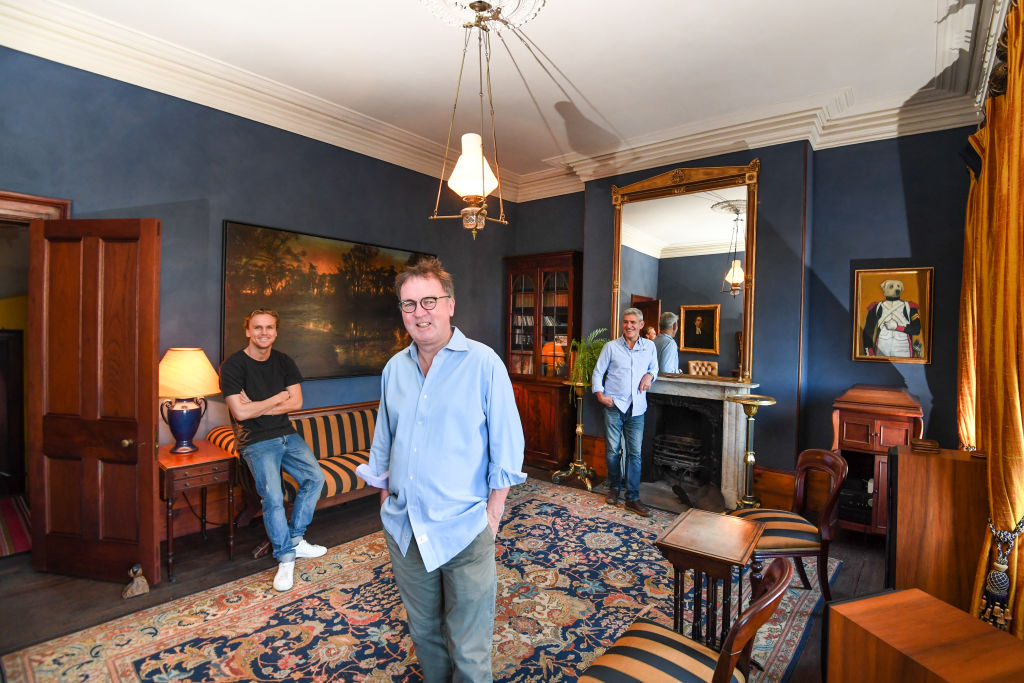 The couple went to look, and were instantly smitten. "As soon as I walked into the hall, I felt I was home," French says. "I was brought up on a farm in Canterbury, New Zealand, so it's a familiar environment, and I'd always wanted a garden."
The triple-heritage-listed farmhouse, built in 1817 by convict labour for assistant colonial surgeon Dr Charles Throsby and his wife, Jane, came with a stables, dairy, outside privy and the only intact bakehouse in the country. The land grant was awarded by Governor Lachlan Macquarie in 1811. 
Today, most of the buildings have been beautifully restored and sit within the Leacock Regional Park, named after a later owner.
Sydney's growth, however, means that there are now houses close by and the four sheep kept to continue its legacy as a working farm – Caramelo, Elsie, Mary and Dorothy – are regularly fed by enthusiastic local children. Two sheep were once stolen, and one local asked what they'd done with two lambs born on the farm. Being urban dwellers, they hadn't realised they'd grown into sheep.
There are other difficulties with heritage too.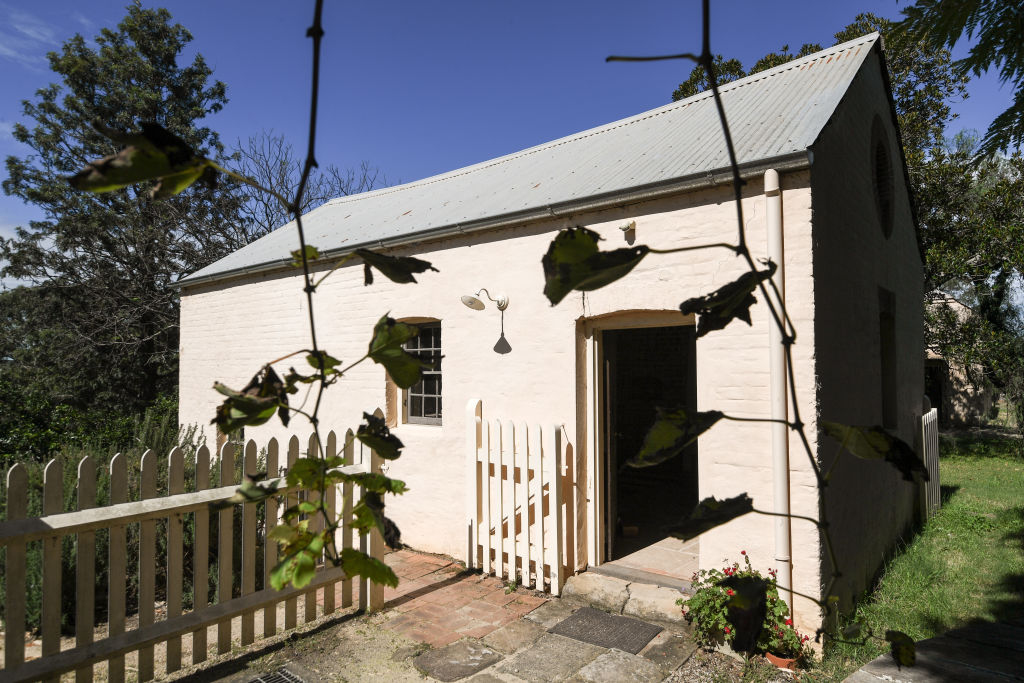 French worries that developers may buy nearby land and change the pristine rural setting forever. In addition, the federal and NSW government has given the go-ahead to a freight distribution facility, the Moorebank intermodal terminal, close by, which will mean noise and warehouses up to 40 metres high along the rim of a nearby escarpment.
"It's so lovely to walk around here, through the orchard and in the gardens and see the view as it must have looked when the farmhouse was built," she says. "But once that view is gone, it will be gone forever, and that's a terrible loss.
"As a heritage property owner, you always seem to be fighting to try to preserve the history that belongs to us all. Liverpool Council has worked hard to help but, as well as protecting the buildings, and reviving the Endangered Houses Fund, there needs to be more state government protection for buildings' curtilage, or setting. 
"It would be great to see a national lottery fund set up, as they have for heritage costs in the UK where they've raised eye-watering amounts of money to protect the past for everyone."
Protecting history
National Trust director of conservation David Burdon says heritage-listing protections come at both local and state levels but one of the biggest issues is trying to preserve heritage conservation areas, to maintain their character.
"It's often very important to protect the original setting around a heritage property to keep it meaningful," he says. "Otherwise, a heritage building can look meaningless if you allow unsympathetic developments of scale that might tower over them."
"And while there are protections, we have to enforce them. Sometimes we have bodies too willing to override heritage protections."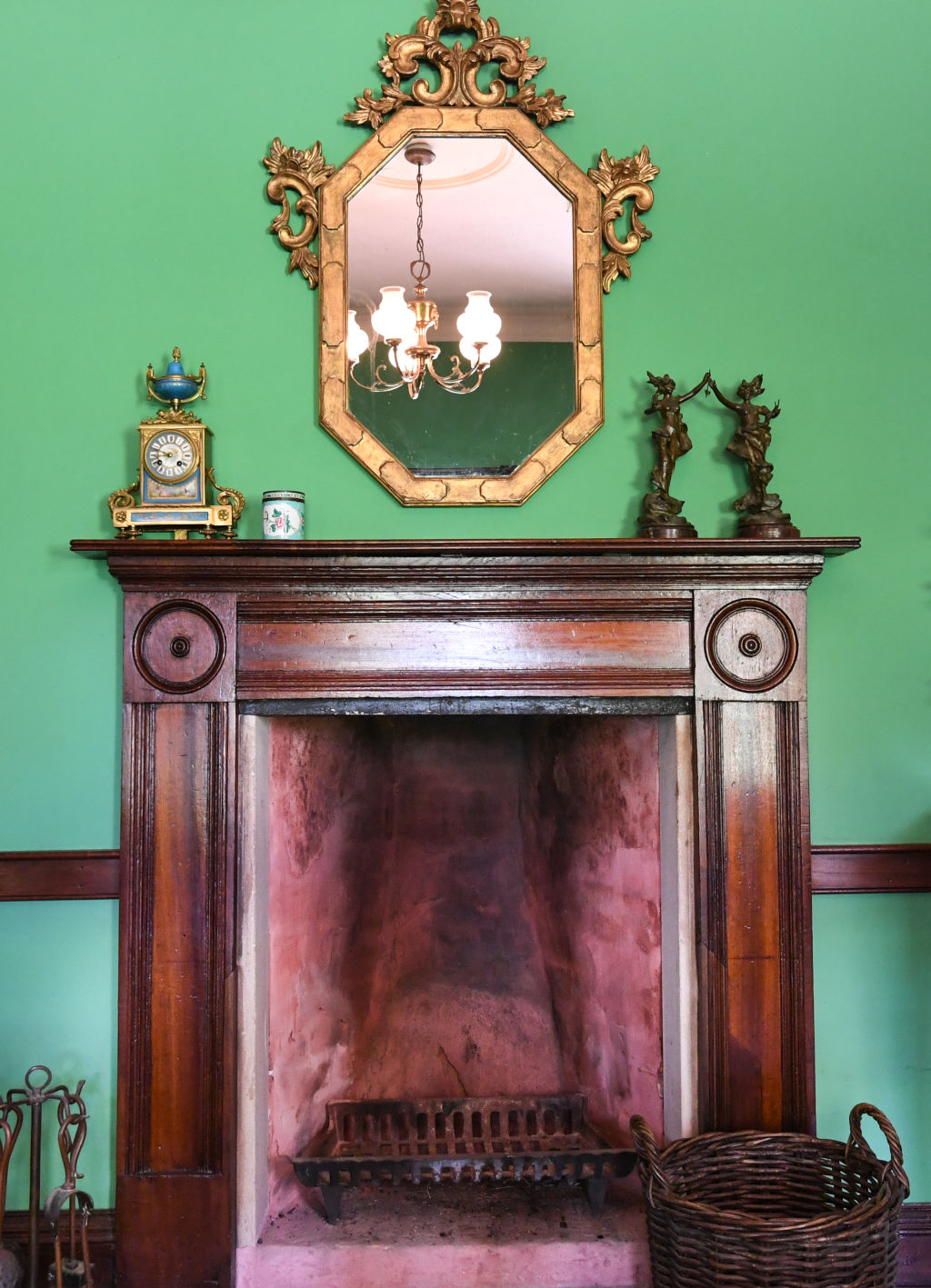 At the charity Historic Houses Association, which supports owners and promotes public interest in historic houses and properties, board member John Dunn says other headaches are all the regulation placed on owners, and the fact so little help is given.
Owners are usually given massive conservation management plans which they have to abide by. These can be good, but many can be terribly onerous, and they can even vary hugely for near-identical properties.
"In my opinion, what a lot of people need is advice and information which is timely and relevant, so you know what you can and can't do," Dunn says. "That way, you could work out what is, and what isn't, possible. 
"But instead, you buy a property and then there's a requirement to do everything a 500-plus page document tells you to do. And all of a sudden you have all these compliance issues, which can come as a very rude shock." 
Rewarding experience
At Dawes Point, Emmett says he bought the four-level terrace – that had previously been used, together with the house next door, as a boarding house – "on a whim, to be honest". 
"I saw it, and thought, 'Why not?' But I didn't realise how much work it would take, and I'd hate to guess how much money I've spent. It was in a very bad state and needed real restoration."
Today, with the help of his brother-in-law Francois Crespel, who is doing the specialist plaster work, his son, music agent Bill, several of Bill's friends, and his sister Maria, an interior decorator who came over from Europe to help, the house has been exquisitely restored down to details such as period books in bookcases, antique furniture, four-poster beds and a fully working porcelain commode.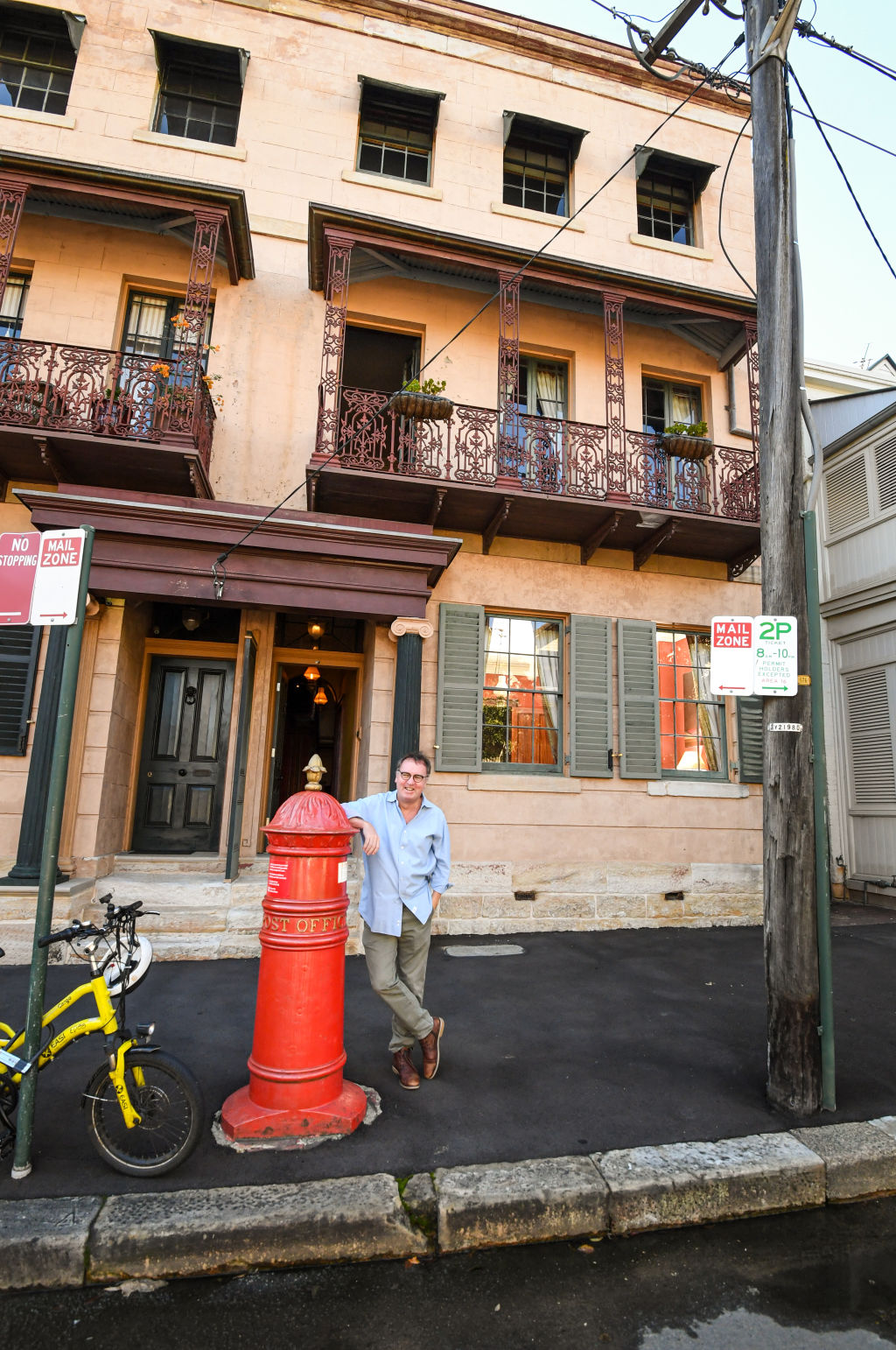 No expense has been spared. Two of the seven bedrooms have been turned into bathrooms. A specially designed steel structure, with another bathroom and glass floors to let in the light, has been craned into a void between the two buildings. And the courtyard has been extended at the back. 
"It's been a great family project and become a real passion turning it into a home," Emmett says of the house that was once occupied by suffragette Maybanke Anderson and her brother, harbour bridge engineer Norman Selfe. "You do hear horror stories, but it's been pretty good. 
"We've restored it as close to the original as possible, and it's been a lot of fun, but I'd certainly advise anyone else thinking of buying a heritage property not to even try work out a budget. There are so many things you find out after you buy."
The post Sydney's heritage homes: take a look inside the historic gems these homeowners have restored for modern living appeared first on Domain.